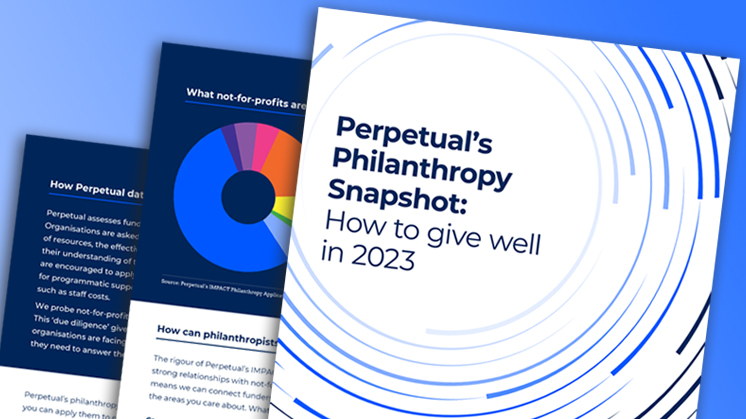 Not for profits in 2023
Challenges and needs
Community needs change all the time. We've seen that over the past few years as we've dealt with the pandemic, lockdowns, natural disasters, economic dislocation and changing government focus.
It's a constant challenge for not-for-profits – and the philanthropists who support them. At Perpetual we try to be part of the solution, encouraging a dialogue that helps not-for-profits get the support they need and philanthropists answer that crucial question: "How do I give well?"
Perpetual's Philanthropy Snapshot: How to give well in 2023 draws on our IMPACT Philanthropy Application Program where we assessed more than 1,400 applications for funding worth over $130 million.
That process highlighted the key challenges facing not-for-profits in 2023 and how their needs have shifted:
from Covid to cost-of-living,
from fear of unemployment to staff shortages,
from health risks to cyber-risks.
We've shared this data with our philanthropy clients so they can better understand the issues not-for-profits are responding to. And we've included suggestions on how they can help.
Our hope is that this paper helps both philanthropists and not-for-profit organisations adapt to the changed operating environment and the changing needs of the community. Because if it does, everybody benefits.